INDEX | BIOGRAPHY | ACTING RESUME |FIGHT DIRECTOR RESUME
On The Set - Welcome to Santa Helena
---
Welcome to the town of "Santa Helena, California" - the home to The Queen of Swords. The set is actually located outside Tabernas, Almeria at a theme park called Texas, Hollywood (although when driving in from the west, the billboard actually boasts of "Texas, Hoolywood"), one of the locations for Sergio Leone's spaghetti Westerns.
Texas, Hollywood contains two distinct areas: the Western town and the Spanish town. Although the exteriors of "Santa Helena" are in the Spanish town, some of the Western buildings are also used for the series: the Western jail also serves as the Spanish jail, and one of the large Western buildings has been converted into a sound stage containing the living quarters of both Senorita Alvarado and Col. Montoya.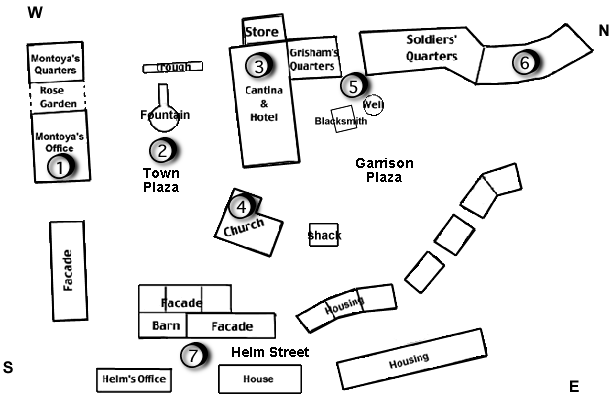 This map will give you the general layout of the Spanish town. From here, you can jump to other pages that will show you what the place really looks like, one building's relationship to another, and an idea of the additional building besides those used often for filming. Not all of these are actually "buildings," but merely facades - simply exterior walls with no floors or roof.
---
Although some of these pages contain interiors, not all are within these pages. Since the jail building is not included on this map (because it is actually part of the Western town), it has not been included. Likewise, Senorita Alvarado's hacienda kitchen is at the hacienda location near San Jose, and so it has been left off the list.
Enjoy your visit!
---
---
---
INDEX | BIOGRAPHY | ACTING RESUME |FIGHT DIRECTOR RESUME
Copyright 2000 Anthony De Longis. All contents, unless otherwise noted, are the property of Anthony De Longis or used with permission of the copyright owner. All text and photos herein may not be reproduced or distributed without the express written consent of Anthony De Longis, his official representative, or the copyright owner.
The Queen of Swords is trademark of Fireworks Productions, Toronto, Canada, and is a production of Fireworks (Canada), Amy Productions (UK), Morena Films (Spain) and M6 (France), and is distributed in the United States by Paramount. The Official Queen of Swords Website can be found at http://www.thequeenofswords.com.
This page designed and maintained by Scorpio Rising. Send Comments

This page last updated January 21, 2001