INDEX | BIOGRAPHY | ACTING RESUME |FIGHT DIRECTOR RESUME
On The Set - Welcome to Santa Helena
#3 - The Cantina Building
---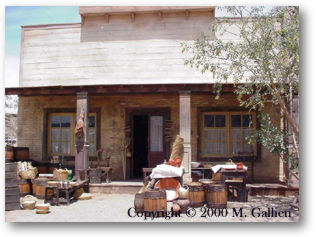 On the left of the Cantina building is the town's store. Originally, the store was only a facade, with a black drape over the back to make it look real. After shooting started, an interior was added. To the left (out of frame) and behind the building (hidden) is part of the Western town. To view the larger image (96K), Click here.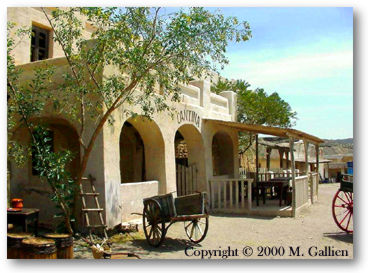 This is the view of the rest of the Cantina/Hotel building, looking from outside the Store towards the south. The 2nd floor of the building is the Hotel; the balcony in the foreground is where the fireball jump from "Duel With a Stranger" was staged. To view the larger image (120K), Click here.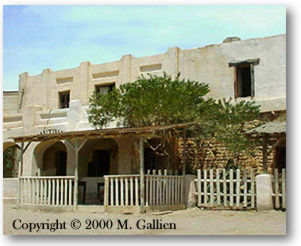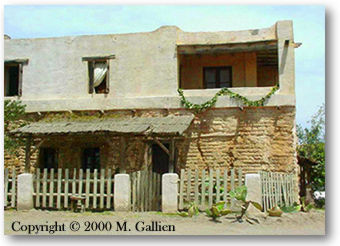 The center of the building is the Cantina location (photo at left). It contains the covered patio that is seen in many episodes. To view the larger image (104K), Click here.
At the end of the building is another balcony that leads into the room that is used for the hotel rooms seen in various episodes (it is simply dressed differently for each one). This photo was taken before the patio cover was extended to cover the cactus garden. The porch side seen just behind the building is the one belonging to Captain Grisham. To view the larger image (112K), Click here.
---
---
INDEX | BIOGRAPHY | ACTING RESUME |FIGHT DIRECTOR RESUME
Copyright 2000 Mary Gallien. All contents, unless otherwise noted, are the property of Mary Gallien or used with permission of the copyright owner. All text and photos herein may not be reproduced or distributed without the express written consent of Mary Gallien, her official representative, or the copyright owner.
The Queen of Swords is trademark of Fireworks Productions, Toronto, Canada, and is a production of Fireworks (Canada), Amy Productions (UK), Morena Films (Spain) and M6 (France), and is distributed in the United States by Paramount. The Official Queen of Swords Website can be found at http://www.thequeenofswords.com.
This page designed and maintained by Scorpio Rising. Send Comments

This page last updated January 21, 2001