INDEX | BIOGRAPHY | ACTING RESUME |FIGHT DIRECTOR RESUME
On The Set - Welcome to Santa Helena
#2 - The Plaza
---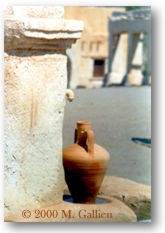 The plaza is the heart of the town, and its most prominent feature is the fountain (left photo). The fountain has a narrow "trough" attached, and washboards for laundering are in it. Althought it looks very rugged, the exterior of the wash area is actually plaster over a frame, so it cannot take much weight. To view the larger image (68K), Click here. The fountain does function, and when being used for a scene, earthen ewers (right photo) catch the water as it flows. To view the larger image (44K), Click here.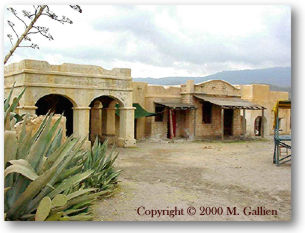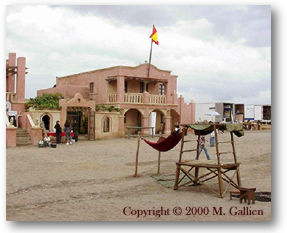 At the SSW end of the plaza (left photo) is a series of "buildings" that aren't actually buildings - they are facades. When filming began, only the one at the far left had a roof; the rest had some scaffolding within for rooftop action. Later, a roof was added to the end one with the porch roof on the right. Just to the right of that building is the street that leads to Helm's street. To view the larger image (84K), Click here.
Turning clockwise towards the WSW, Montoya's office and quarters come into view (right photo). The far west end of the building is the limit of the set and where the camera trucks park.To view the larger image (68K), Click here.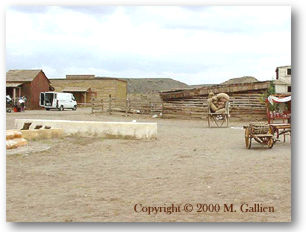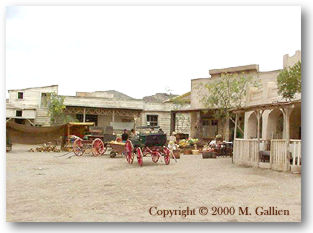 At the west end of the plaza are pens and barns for livestock. Chickens and a turkey live in the pen, and horses and a mule are inside the barn. Since they are in a Western style, they cannot get into any of the shots, but the mule had an uncanny for braying after hearing the word "action." At the left is the end of the fountain and an additional horse trough, also made of plaster over a wire frame. To view the larger image (84K), Click here.
The Western buildings visible near the store and Cantina building (photo right), although they look like offices, are actually facades covering a horse barn. Many horses reside at Texas, Hollywood for work in The Queen of Swords, the Wild West show staged for tourists, and sometimes other films being filmed in the area. To view the larger image (68K), Click here.
---
---
INDEX | BIOGRAPHY | ACTING RESUME |FIGHT DIRECTOR RESUME
Copyright 2000 Mary Gallien. All contents, unless otherwise noted, are the property of Mary Gallien or used with permission of the copyright owner. All text and photos herein may not be reproduced or distributed without the express written consent of Mary Gallien, her official representative, or the copyright owner.
The Queen of Swords is trademark of Fireworks Productions, Toronto, Canada, and is a production of Fireworks (Canada), Amy Productions (UK), Morena Films (Spain) and M6 (France), and is distributed in the United States by Paramount. The Official Queen of Swords Website can be found at http://www.thequeenofswords.com.
This page designed and maintained by Scorpio Rising. Send Comments

This page last updated January 21, 2001