INDEX | BIOGRAPHY | ACTING RESUME |FIGHT DIRECTOR RESUME
On The Set - Welcome to Santa Helena
#5 - Military Quarters
---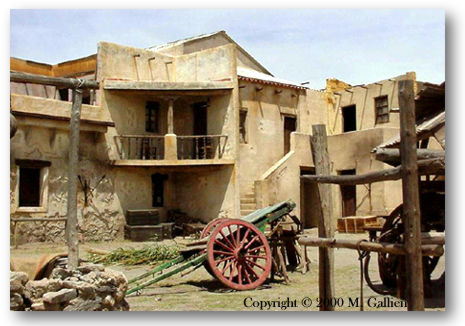 The Garrison section, behind the church, is the location of Grisham's apartment, the soldiers' barracks, the blacksmith's workspace and well.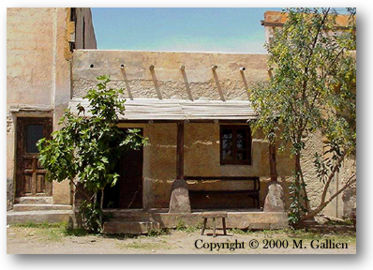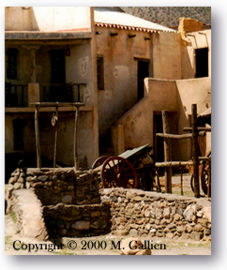 Attached to the rear of the cantina is Grisham's apartment (left photo). The window is located in the bath area in the apartment. The door is one of two accesses to Grisham's apartment - a second door to the far right of this building opens to Grisham's office, connected to his apartment. To view the larger image (72K), Click here.
In the middle of the square is a stone well. Although it is non-functioning, the well is still about 8 feet deep. To view the larger image (68K), Click here.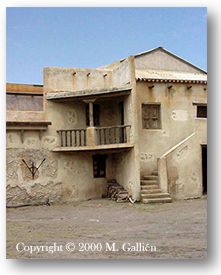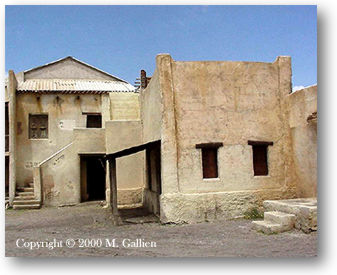 Further north are the soldiers' quarters (left photo) - a two-story building with an intriguing balcony that has been used for some of the show's action. To view the larger image (64K), Click here. A second small building is also included in the soldier's quarters. This covered doorway (right photo) is the site of a scene between Krane and Grisham in "The Hanged Man". To view the larger image (92K), Click here.
---
---
INDEX | BIOGRAPHY | ACTING RESUME |FIGHT DIRECTOR RESUME
Copyright 2000 Mary Gallien. All contents, unless otherwise noted, are the property of Mary Gallien or used with permission of the copyright owner. All text and photos herein may not be reproduced or distributed without the express written consent of Mary Gallien, her official representative, or the copyright owner.
The Queen of Swords is trademark of Fireworks Productions, Toronto, Canada, and is a production of Fireworks (Canada), Amy Productions (UK), Morena Films (Spain) and M6 (France), and is distributed in the United States by Paramount. The Official Queen of Swords Website can be found at http://www.thequeenofswords.com.
This page designed and maintained by Scorpio Rising. Send Comments

This page last updated January 21, 2001