INDEX | BIOGRAPHY | ACTING RESUME |FIGHT DIRECTOR RESUME
On The Set - Welcome to Santa Helena
#4- The Church
---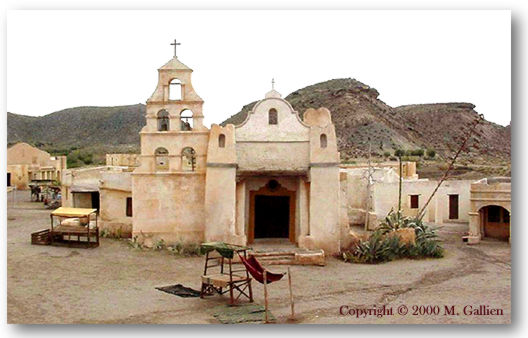 On the northeast corner of the town plaza is the Church. With bell towers, garden walls, and a setting that allows a camera crew to work 360 degrees around the building, it's functional for filming and carries great visual and emotional impact for both drama and action sequences.To get a complete view of the church, the following photos will give you a clockwise stroll around the building.
The north side of the church contains a small attached building that is actually used the for storage. A small garden wall extends out about 4 feet from the building. The porch edge visible on the left of the far right photo is the end of the Cantina building (near the hotel room). The scaffolding on the back of the 5-bell steeple is also visible. Click on each image to view a larger view.
The rear of the church has a back door leading onto a covered porch. This porch covering was used by the assassin in "Vengeance". For the fall, a ramp was built level to the top step, the covered with cardboard boxes and pads. The pink building visible in the center picture is Montoya's offices. the building visible in the right photo is the end of the Cantina and a cover for an entrance to an additional small building. Click on each image to view a larger view.
The south side of the church has a large patch of large, mature agave. In fact, one of the stalks is taller than the church. It is this side that the Queen rappelled down in "Destiny."
---
Interested in the interior of the church? Then just click here to come inside.
---
---
INDEX | BIOGRAPHY | ACTING RESUME |FIGHT DIRECTOR RESUME
Copyright 2000 Mary Gallien. All contents, unless otherwise noted, are the property of Mary Gallien or used with permission of the copyright owner. All text and photos herein may not be reproduced or distributed without the express written consent of Mary Gallien, her official representative, or the copyright owner.
The Queen of Swords is trademark of Fireworks Productions, Toronto, Canada, and is a production of Fireworks (Canada), Amy Productions (UK), Morena Films (Spain) and M6 (France), and is distributed in the United States by Paramount. The Official Queen of Swords Website can be found at http://www.thequeenofswords.com.
This page designed and maintained by Scorpio Rising. Send Comments

This page last updated January 21, 2001