INDEX | BIOGRAPHY | ACTING RESUME |FIGHT DIRECTOR RESUME
On The Set - Welcome to Santa Helena
#2 - Montoya's Office and Rose Garden
---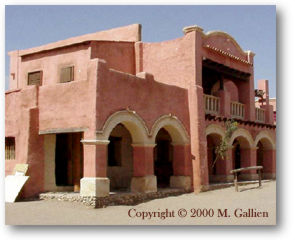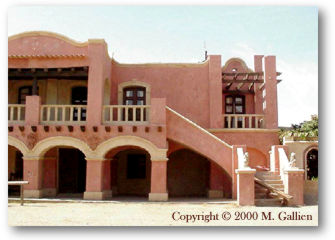 The upstairs level at this end of the building is Montoya's office (left photo). The small room with the 2 windows is actually the room that houses Montoya's hidden vault.To view the larger image (68K), Click here.
The main door opens to an entryway that leads to Montoya's office at the left and an office for Montoya's secretary to the right (photo at right). The door at the far right leads from that office to a small patio overlooking the rose garden. Another door on the large balcony leads directly to Montoya's office. To view the larger image (80K), Click here.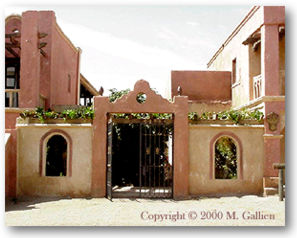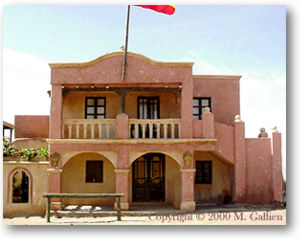 Between the building that houses Montoya's office and the one that houses his living quarters, there is a rose courtyard. This ornate, black iron gate opens to the courtyard. To view the larger image (84K), Click here.
This building at the other end of the building is Montoya's living quarters, although the set for them is located on a sound stage located in the western section of Texas Hollywood. In reality, a caretaker for the park and his family live in the building. To view the larger image (68K), Click here.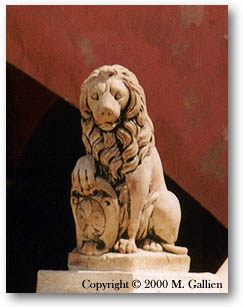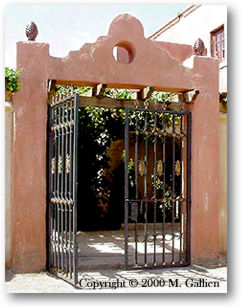 The base of the stairs leading to the office is guarded by a pair of stone lions. This lion invites you to visit the interior of the Colonel's offices. Please Click here to enter the offices.
The entrance to the Rose Courtyard is guarded by this beautiful black wrought-iron fence with gold detail. Click here to enter the courtyard.
---
---
INDEX | BIOGRAPHY | ACTING RESUME |FIGHT DIRECTOR RESUME
Copyright 2000 Mary Gallien. All contents, unless otherwise noted, are the property of Mary Gallien or used with permission of the copyright owner. All text and photos herein may not be reproduced or distributed without the express written consent of Mary Gallien, her official representative, or the copyright owner.
The Queen of Swords is trademark of Fireworks Productions, Toronto, Canada, and is a production of Fireworks (Canada), Amy Productions (UK), Morena Films (Spain) and M6 (France), and is distributed in the United States by Paramount. The Official Queen of Swords Website can be found at http://www.thequeenofswords.com.
This page designed and maintained by Scorpio Rising. Send Comments

This page last updated January 21, 2001