INDEX | BIOGRAPHY | ACTING RESUME |FIGHT DIRECTOR RESUME
Behind The Scenes And on The Set With Anthony De Longis
It has been my great pleasure to contribute my skills to a truly wonderful project, The Queen of Swords. My tenure as Stunt Coordinator, Sword Master and finally Guest Star Performer has been both a challenge and an adventure. I have worked professionally for over twenty-five years choreographing, coordinating and performing with some of the biggest names in entertainment, with no small degree of success. I have a passionate belief in The Queen of Swords and I have devoted every effort to helping create the best action possible with the assets at our disposal.
In the weeks that follow I will give you a little behind the scenes insight into what it takes to bring you the exciting action you will witness in each of the first six episodes. You are in for some surprises and I think you will find the process of bringing a new series to life fascinating. I hope you enjoy this journey as much as I did.
---
Although the series begins with "Destiny," the show that tells the story of how Tessa Alvarado came to be the "Queen" , it was not the first episode we shot. We began with "Death to the Queen," directed by John Cassar, followed by "Vengeance," directed by Brian Grant. Why did we wait to shoot the opening episode until third in our filming schedule? Well I'll tell ya.
The Queen of Swords is the product of a unique and very complex combination of international talents assembled to breathe life into this fragile newborn. The producers are literally a United Nations assemblage from the United States, Canada, Spain, England and France. The cast and crew are similarly international, all brought together in a strange desert location called Texas Hollywood in the province of Almeria in the Andalusian region of southern Spain. The first thing we had to do was find a way to quickly come together and work as a team.
The producers wisely decided to give us two shows to film to work out the kinks. It was vital to get each of the many different departments to join together as a family before filming the all important pilot episode. You must realize it takes writers, actors, producers, directors, directors of photography and their camera and lighting crews, the sound department, the art department to design and detail the many sets, the construction crew who builds them, the special effects department, the stunt department, the wranglers for horses, coaches and carriages, makeup, hair, grips, electrics, transportation, post production, craft services to feed us and accountants to see we all get paid. Whew!
The real magic is that a show as ambitious as The Queen of Swords makes it to the screen at all, let alone that we bring you a new story every seven days. That's right, in episodic television you shoot a new episode every seven days. That's a little over a week to shoot what a feature film gets a month and sometimes more to shoot. It's a grueling, exhausting schedule that requires each member of every team to go the extra mile and do whatever it takes to get the job done. "You gotta cowboy up, or sit in the truck." I had the pleasure of working with our talented director of photography, Alwyn Kumst in South Africa when I guest starred on The Adventures of Sinbad. Here in Spain, he was training a lot of his crew and had scrawled across his desert cap the words that said it all:
"Go hard or go home."
That's just some of the personnel that go into getting the show made. But let me step back a moment and talk about some of the preparation before we ever got to Spain.
---
Back in September of 1999, while I was starring in a new stage comedy, "A Vampire Reflects, David Abramowitz approached me about working together on his latest creation - The Queen of Swords. As you might imagine,I spent several months with my fingers crossed that all would go well. I had long wanted to bring something fresh to television sword action, a style that would be unique and not a carbon copy of the all-too-familiar. I wanted to expand on the style I had brought to the "Duende" episode of Highlander, the Series. David even used scenes from the climactic fight in the rain to help show the other producers how visually exciting the action for The Queen of Swords could be. We needed an actress who could really deliver.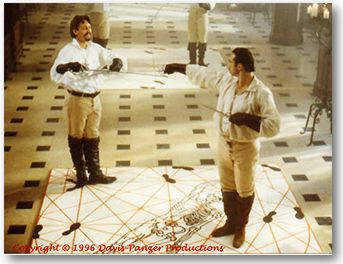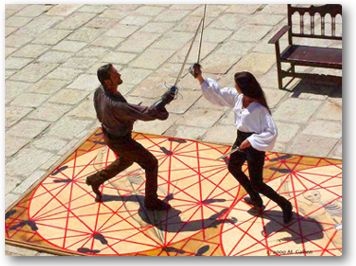 photo at left: Consone (Anthony De Longis) instructs Duncan MacLeod (Adrian Paul) in the complex, esoteric Spanish fighting style known as the Mysterious Circle, in Highlander: The Series episode "Duende." Photo at right: This style was carried over by Anthony to The Queen of Swords, where he as Maestro Torres trains Tessa Alvarado (Tessie Santiago) with the same system in the premiere episode, "Destiny."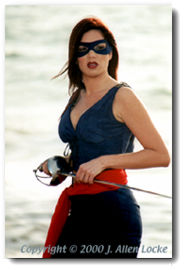 photo at left: Tessie dressed in the costume made for the NATPE trailer.

Once The Queen of Swords was green-lighted for production, there was the little matter of finding the lead. After an extensive search, a young Latin actress named Tessie Santiago was chosen - lucky for us! In January I had four brief training sessions to prepare and choreograph Tessie for an action trailer we shot January 13 to help the producers sell the show at NATPE (National Association of Television Programming Executives). We fought in a beautiful cove on the beach near Malibu and David Baker (www.hollywoodcombatcenter.com) was generous enough to supply us with swords. Dave later designed the Queen's sword for the series. The Queen's costume at that time was very different. Let's just say Tessie was a vision in blue suede (for full-size photo, click here),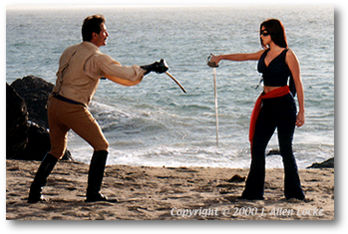 photo at right: Anthony gives Tessie Santiago some sword lessons on the beach just before filming the NATPE trailer for the series.

David Abramowitz wisely arranged two months of intensive training for his leading lady. It was a trial by fire that would prepare her for the real challenges to come. Throughout February and March I met with Tessie three times a week to teach her the sword, then both rapier and dagger and finally the mysteries of the whip. We worked on movement and footwork so these weapons became a natural extension of her own body affording the actress dynamic and stylish tools for character development and expression. Tessie also spent grueling hours in daily and sometimes twice daily Tai Bo classes to improve her conditioning. This was in addition to her learning to ride a horse and the many other duties she embraced to be ready to walk in front of the camera in just eight short weeks.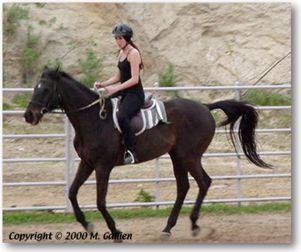 photo at left: Tessie canters on Casanova during a riding lesson with trainer Susan Friend at Goldspirit Farm in Los Angeles.

The Queen of Swords has a tremendous opportunity to create both dynamic entertainment and a wonderful role model for young people and especially girls of all ages. Our heroine will always be paired against opponents stronger than herself, mostly men, and must be able to think and credibly fight her way to a satisfactory and just conclusion. It was vital that Tessa Alvarado, training with her fencing master in the "Spanish Circle" in the pilot episode "Destiny", provide active proof of her credentials with the blade. It acknowledges her heritage with a system that is distinctively Spanish and supplies her with the skills and strategies to defeat stronger opponents in succeeding episodes. The "Mysterious Circle" training provides dynamic proof of her credentials with both rapier and dagger, as well as a host of other weapons, including the whip. I think you, the viewers, will like what you see. When dailies of this sequence were shown, a letter of congratulations from producers David Abramowitz and Ken Gord was delivered to me on the set with additional words of praise for the final horse action created by Ricardo Cruz (see letter from Producers). Wait 'til you see those horses run.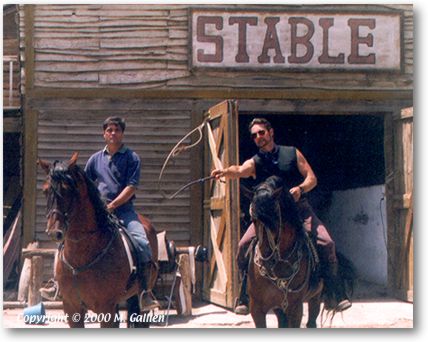 photo at right - Whip conditioning for the "Queen" horses. Anthony De Longis trains Chico (Tessie's mount) with the whip, while stunt co-coordinator Ricardo Cruz reassures Escandalo (one of Chico's doubles--yes, even the horses have doubles) that the sound is nothing to fear.

It has been an honour to work with my co-coordinator Ricardo Cruz to bring you some very exciting stunt action. Richard has brought you his skills with horses on such projects as Gladiator (Russell Crowe's character rode Montero, the white horse that "Captain Grisham" rides), Sleepy Hollow, Braveheart, and First Knight. He is an extraordinary talent, and paid me the ultimate compliment of always welcoming my advice, even on our horse action. It makes me glad I've been doing my horsey homework. What you will see is the product of our collective imaginations, years of experience and our willingness to go the extra mile to get the best possible story onscreen.

So pop the corn, sit back and get ready to enjoy some great entertainment in the style of the wonderful old swashbuckler classics that they just don't make anymore. Until now.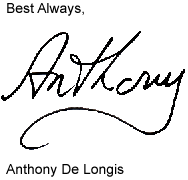 ---
Episode #1 - Destiny
Episode #2 - Death To The Queen
Episode #3 - Vengeance
Episode #4 - Honor Thy Father
Episode #5 - The Witness
Episode #6 - Duel With a Stranger
So You Want To Be A Swordmaster/Stunt Coordinator?
A Visit to the Set of Santa Helena
---
---
INDEX | BIOGRAPHY | ACTING RESUME |FIGHT DIRECTOR RESUME

Copyright 2000-2001 Anthony De Longis. All contents, unless otherwise noted, are the property of Anthony De Longis or used with permission of the copyright owner. All text and photos herein may not be reproduced or distributed without the express written consent of Anthony De Longis, his official representative, or the copyright owner.

The Queen of Swords is trademark of Fireworks Productions, Toronto, Canada, and is a production of Fireworks (Canada), Amy Productions (UK), Morena Films (Spain) and M6 (France), and is distributed in the United States by Paramount. The Official Queen of Swords Website can be found at http://www.thequeenofswords.com.

This page designed and maintained by Scorpio Rising. Send Comments

This page last updated August 2, 2001