"A Vampire Reflects" is the new comedy by Frank Semerano, having its World Premier at the Ventura Court Theatre at 12417 Ventura Court, Studio City, CA. The show features original music by Gary Stockdale, with lyrics by Semerano and Stockdale. The play runs from September 23rd through October 31st, 1999. Curtain is 8 PM Thursday-Saturday and 7:30 PM on Sundays. Tickets are $10 and reservations are encouraged; call the theatre at (818) 763-0245.
"The cast, under Vaughn Armstrong's energetic, campy direction, has a ball with the nonsense, not only because it provides the kind of over-the-top theatrics every actor would kill for but because of the dialogue's Preston Sturges-like locomotion and the story's underlying spoof of Cold War attitudes."

The real fun is the rat-a-tat-tat talk and punning and sympathizing for an obscure Count who complains that 'Dracula just had a better press agent'."
"..a delightfully shameless effort that will go as low as it needs to for a laugh."


Anthony De Longis (Count Zescu) has played a variety of characters on both stage and scren. Roles include Othello's Iago, the recurring antagonist Maje Culluh on Star Trek: Voyager, and two different inmmortals on Highlander: The Series. His film villain credits include Sinbad, Roadhouse and Masters of the Universe. Behind the scenes he works as a Fight Director and Action Choreographer.
Miguel Marcott (Doctor Gunter) began acting as a teenager, and has performed in many Shakesperean productions, while touring with National Players, a classical touring Company. Some of Miguel's notable roles in Los Angeles have been in The Megaw's production of Anthony Shaffer's Whodunnit and as the title character in Ionesco's Macbett.
Dan Payne (Colonel Puddlepont) brings considerable experience to his role as Colonel Puddlepont. Some of his theatre credits include The Rainmaker, A Cry of Players, Macbeth, Romeo and Juliet and others. He also has had many roles in both film and television. Dan should be familiar to fans of the soaps Days of Our Lives and General Hospital.
Joy Ellison (Mrs. Lenore Puddlepont) is a proud native Angelina who grew up in TV as a kid actor and has appeared in numerous films and television shows. We last saw her at the Ventura Court Theatre in Dracula. When Ms. Ellison is not out chasing Vampires, she is a Speech and Dialect Consultant for film, stage and television.
Casie Fox (Mattie) has just finished shooting the feature film The Kings Guard, with Eric Roberts and Ron Pearlman, She is a graduate of the Dell'Arte School of Physical Theatre. Prior to moving to Los Angeles, Casie was an apprentice clown with the Pickle Family Circus. She has worked with the Marin Shakespeare Festival, Michael Chekov Studio, and ACT's studio theatre.
Chris Edsey (Joyce Lyonhartt) acted her way from Chicago, working in theatres in Kansas, Texas and New Mexico. She was one of the founding members of the Los Angeles Repertory Theatre where one of the parts whe played was "Leslie" in the original production of Frank Semerano and John Rustan's The Tangled Snarl. Chris has many commercial and TV credits.
Alex Cobo (Lieutenant Crisis) has worked with Raul Julia and Joe Pintauro. He honed his craft doing tons of off-Broadway and standup comedy in New York and Los Angeles. Currently, you can see him pop up on your TV set in a number of commercials.
Vaughn Armstrong (Director) has TV credits that include Home Improvement, Seinfeld, Star Trek: The Next Generation and ER. Among his film credits are Philadelphia Experiment and Clear and Present Danger. Stage credits are many including 10 shows at the Mark Taper Forum and 10 at the Old Globe Theatre in San Diego. He was the Managing director of the Los Angeles Repertory Theatre for six years and the Artistic Director for 2 years.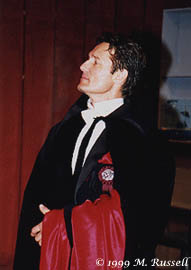 "He can't help being dashingly handsome, drawing the ladies to him like a really great men's fragrance, and he can't help being funny. (George) Hamilton would love this guy." -- Los Angeles Times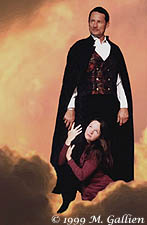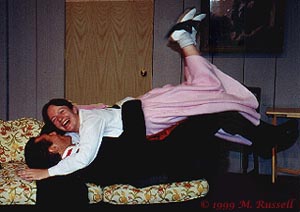 Set in the Southern California desert in the 1950's, Count Zescu finds himself being served/adored/tormented by Mattie (Casey Fox). "Mattie's portrait" (upper left) embodies her romantic ideal of the Count. Her ardor and youthful enthusiasm (upper right), however, is sometimes overwhelming.

"De Longis manages to be both swoony and comical, while Fox plays her part like Lolita on speed." -- Backstage West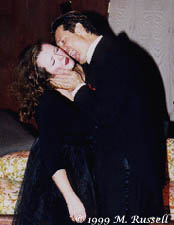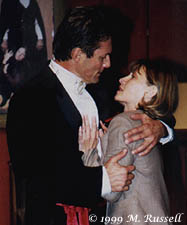 "Alas for the Count, there are more women ready to swoon at the lip of his cape.." --Los Angeles Times.
Upper left: Count Zescu and Mrs. Puddlepont (Joy Ellison). Upper right: Count Zescu and Joyce Lyonhartt (Chris Edsey).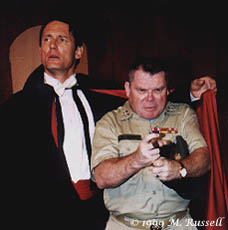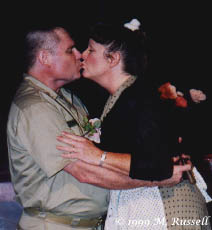 Count Zescu attempts to end a military experiment at the nearby base. The commander, Colonel Puddlepont (Dan Payne), unaware of the Count's "heritage" and personal history, reveals more than Zescu is comfortable knowing (upper left). Despite the Puddleponts' reassurances to each other (upper right), the Count's presence has changed their happy home.

"There's a hilarious performance by Dan Payne as Col. Puddlepont...Joy Ellison makes a delightful Mrs. Puddlepont, the flibbertigibbet who finds a title-to-be as seductive as a rank." -- Backstage West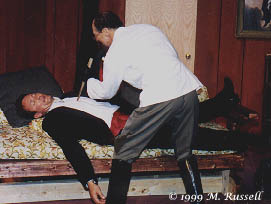 "One of the funnier touches in a script that relentlessly dishes the one-liners is introducing a real ghoul who makes the Count look like a pushover: Dr. Gunter (Miguel Marcott). He is the prototypical ex-Nazi now in the U.S. government's employ but whose real agenda is to terrorize the base." --Los Angeles Times.

"Miguel Marcott and Alex Cobo boldly essay the mad scientist/sidekick roles" -- Backstage West
Reviewers' quotes are from "Body of Play All in Fun" by Robert Koehler, special to the Los Angeles Times, published October 14, 1999 (copyright the Los Angeles Times) and "Vampire Reflects by Wenzel Jones, Backstage West, published October 21, 1999 (copyright Backstage/Dramalogue).

Index Page | Biography | Fight Director Resume | Photo Gallery | Instruction | News/Updates | Make Contact
---
ęCopyright 1998, 1999 Anthony De Longis. All contents, unless otherwise noted, are the property of Anthony De Longis or used with permission of the copyright owner. All text and photos herein may not be reproduced or distributed without the express written consent of Anthony De Longis, his official representative, or the copyright owner.
This page designed and maintained by Scorpio Rising. Send Comments
This page last updated October 16, 1999