INDEX | BIOGRAPHY | ACTING RESUME |FIGHT DIRECTOR RESUME
Behind The Scenes And on The Set With Anthony De Longis
"DUEL WITH A STRANGER"
"Duel with a Stranger" was the final show on my watch as Sword Master and Stunt Co-coordinator. Producer, Ken Gord took me aside to break the news right before hiatus, when the last shot of the duel in Madrid - our final scene - was in the can. Ken had written memos about our location and personnel difficulties to the other producers. "I told them about all our problems but the French wanted somebody French and the Canadians didn't fight for you," was all he could say. The French producer on set, Gerard Croce had told me the week before, "You are a man who has style. Me, I don't care about style. And neither does the audience." It was a logic and lack of vision I thought would ultimately come back to bite them.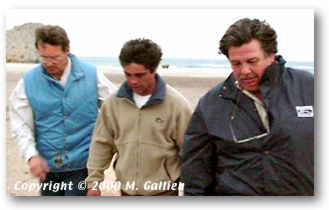 At left: Anthony walks on the beach with co-coordinator Ricardo Cruz (center) and line producer Gerard Croce.

Of all the creative talents that I worked with on "The Queen of Swords," I was most impressed with my partner and co-coordinator, Ricardo Cruz. Ricardo was interviewing for director Terry Gilliam's latest project, "Don Quixote." On his recommendation, the Spanish producer, Jose Luis Escolar" called and asked for my resume and demo reels. He said, "I think highly of Ricardo and he thinks your work is very special." Mr. Gilliam decided to use a sword master he'd already worked with, but Ricardo's recommendation was a gratifying mark of appreciation for the work we had accomplished together.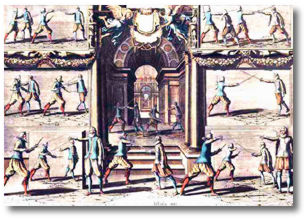 At right: Watercolor depiction of a fencing salle teaching the Mysterious Circle, as interpreted by Thibault. Anthony found this watercolor in the window of an antique shop while in Paris to film "Duende" for Highlander: The Series. he considered it a very good omen.

Alvaro Longoria, president of Moreno Films, was pleased and very complimentary about my efforts, especially my depiction and celebration of the Spanish spirit and culture. We met in Madrid to discuss a documentary project with the working title, The Sword and the Bladed Arts of Spain. In addition to the Spanish rapier and the "destreza," the documentary would incorporate the "navaja," the classic Spanish fighting knife. I planned to include the arts of bullfighting and flamenco dancing and explore their contributions to the movements and style unique to the Spanish swordsman. I had attempted to incorporate many of these elements into the fighting style of The Queen of Swords. I had several meetings in person and by phone with Alvaro and Ramon Ibanez, VP in charge of new projects, and I did a lot of preliminary work on the script. Unfortunately, filming the documentary was contingent upon "The Queen of Swords" enjoying a second season. Needless to say, I was disappointed on many levels that the show didn't survive.
---
CAST

Tessie Santiago - Tessa Alvarado / The Queen of Swords
Paulina Galvez - Marta
Valentine Pelka - Colonel Luis Montoya
Peter Wingfield - Dr. Helm
Anthony Lemke - Captain Marcus Grisham
Elsa Pataky - Senora Vera Hidalgo
Tacho Gonzales- Don Gaspar Hidalgo
Christian de la Fuente - Antonio
---
After "Destiny," "Duel with a Stranger" was my favorite episode of the opening six-pack. First, it reunited me with one of my favorite directors, Richard Martin. After our time together in Paris and our success at crafting the story of the "Duende" episode of Highlander: the Series, I knew we'd make magic again. Second, I finally had the personnel to stage the kind of sword action I'd always wanted. Let me explain.

One of our most consistent difficulties had always been the lack of experienced sword personnel to double both our recurring stars and our guest artists. Quite literally, we had none. "Vengeance" had the only actor whose size I could physically match and the director only let me to double him for Tessie's knife fight. He refused to utilize my skills to partner Peter Wingfield's sword action which later had to be reshot. Peter was never able to fully focus on his own performance. That is the benefit of an experienced double. They keep the actor safe and looking his best. The actor has the confidence to push their performance in a way they cannot with someone who's struggling to remember their next move.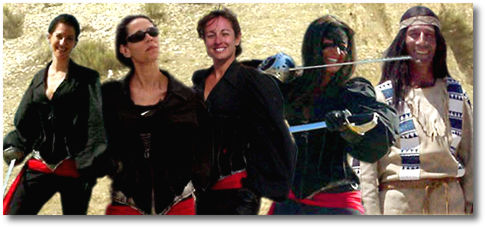 At left: Tessie's doubles as the Queen included (from left to right) Roberta Brown, Natalia Guijarro, Mary Gallien, Gaelle Cohen, and Curro (who performed horse and fight stunts in "Running Wild" and "The Hanged Man"). Missing is Mary Jose

We had doubles for the Queen, namely Gaelle Cohen, Roberta Brown, Mary Gallien, Natalia Guijarro and Mary Jose, depending on the demands of the action involved. Roberta also doubled as Marta during carriage chases and for Bo Derek's long shot master in "The Witness," but that didn't solve our male doubling problems. Our Spanish team, world class horse professionals and accomplished stunt performers, simply didn't have the same level of experience with the sword. You don't learn sword skills over night, especially when you're busy performing all the other action for a new episode every week.

Gaelle Cohen, our new stunt double for the Queen, brought back two experienced swordsmen from Paris. Ken Gord and Girard Croce had worked with Philippe Morel and Olivier Cohen on The Raven and Relic Hunter and finally gave the OK to import some experienced sword talent. I was a perfect double for Christian de la Fuente, and our two French sword professionals were going to enable me to attempt the kind of action that I had always envisioned.

The Circus Begins with a "Death" at the Hacienda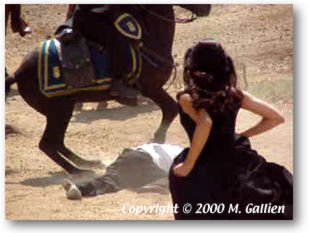 Photo at left - horseman Domingo Beltran doubled Christian for the "backoff." He did a superb job of a difficult task, staying still with a rather agitated horse mere feet from his head.

We began filming "Duel With A Stranger" on June 22, 2000 at the distant seaside hacienda location. As usual, filming started with one of the final scenes. Ricardo spent the morning setting up the horse stunt. Domingo doubled our guest star, Christian de la Fuente, flinging himself off the back of a galloping horse when shot by Captain Grisham's bullet. Under Ricardo's practiced eye, Domingo rehearsed the "back off" with a cable release harness onto mats placed alongside the circling horse in a small stone training ring in front of the hacienda. I helped prepare the earth for Domingo's fall and joined Ricardo to supervise the action.

During our preparation, a wonderful young flamenco singer was waiting politely with her family to be introduced to Tessie Santiago. The weekend before at a party hosted by Morena Films at the Cultural Centre in Almeria, we had been entertained by a gypsy family of Flamenco singers and musicians. The youngest daughter, Salama, took the stage and captivated the audience with her poise and fire, extraordinary in one so young. Now she was shy and looked every bit her tender age of eleven. You could see the admiration in her eyes for Tessie and for the character of "La Reina de Espadas." We had a hero for little girls to look up to and identify with - a strong and responsible woman of action who didn't need to be rescued by a man.

After Antonio's death scene was shot, Mary and I went back to polishing the choreography for the upcoming encounters between the Queen and Antonio, Montoya's imported master swordsman and assassin. The sword and dagger duel where Antonio would unmask the Queen was just around the corner, followed almost immediately by their first encounter in Antonio's bedroom.

I also had a mounted whip gag in mind for later in the show, so I sent Mary to prepare Natalia while I took Tessie to the top of a camera truck to film an editor's insert for the "Death to the Queen" cliff top sequence. Then Tessie hustled off to change from her Queen garb into her Tessa frocks for the big emotional climax of the current episode. Mary donned the Queen's costume and headed to the beach for second unit pickups and I grabbed Ricardo to discuss some ideas I had for our upcoming action. A typical first day of shooting.

On to Page Two of "Duel With a Stranger">

Back to the Queen of Swords Index Page
---
INDEX | BIOGRAPHY | ACTING RESUME |FIGHT DIRECTOR RESUME

Copyright 2000-2001 Anthony De Longis. All contents, unless otherwise noted, are the property of Anthony De Longis or used with permission of the copyright owner. All text and photos herein may not be reproduced or distributed without the express written consent of Anthony De Longis, his official representative, or the copyright owner.

The Queen of Swords is trademark of Fireworks Productions, Toronto, Canada, and is a production of Fireworks (Canada), Amy Productions (UK), Morena Films (Spain) and M6 (France), and is distributed in the United States by Paramount. The Official Queen of Swords Website can be found at http://www.thequeenofswords.com.

This page designed and maintained by Scorpio Rising. Send Comments

This page last updated October 1, 2001