---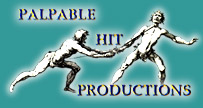 Anthony De Longis and PALPABLE HIT PRODUCTIONS are pleased to announce that its first instructional video on combative period swordsmanship. La Verdadera Destreza: The True Art and Style of Spanish Swordsmanship, is now for sale in both DVD and VHS formats.
This 2-volume introductory video set is designed to present the Spanish School of Swordsmanship, La Verdadera Destreza, in a simple basic form so that it is comprehensible to the modern swordsman training without a master. It will provide you the most fundamental elements of the Spanish School of Swordsmanship so that as potential Diestros, you may practice basic skills, techniques, and drills so that at the end of your basic practice you may begin to engage in light assaults.
Based upon the texts of Spanish masters Don Jeronimo Sanchez de Carranza and Don Luis Pacheco de Narvaez, La Verdadera Destreza is a two-volume instructional guide to the correct combative fighting style of the Spanish School of Swordsmanship gleaned from over twenty years of research and study of the historical Spanish treatises by Maestro Ramon Martinez and his partner, Maestro Jeannette Acosta-Martinez.
"By the end of Volume Two, your patience and attention is rewarded by a deeper appreciation of what could be the most civilized and intellectually demanding systems the inventiveness of European swordsmen has dreamed up...For those who consider fencing a challenge for the mind s well as an athletic contest, this is a welcome addition to the research library!" --- Chris Amberger, Special History Editor, Fencers Quarterly Magazine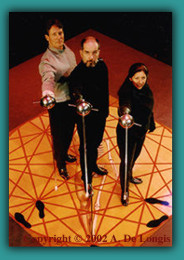 Contents of Volume 1 include instruction and drills covering:
Weapon and Blade Selection
Proper Grip
Positions of the Hand
The Stance - Afirmarse
Footwork - Compases
Blade Actions - Atajo, Cambio de Atajo, and Oppositions
Developing Sensitivity - Tacto
Building Your Own Circle
Building upon the foundation of skills presented in Volume 1, contents of Volume 2 include instruction and drills covering:
Movemientos
Cuts - Arrebatar, Media Tajo, Mandoble
Thrusts - Estocadas
Defensive Blade Actions - Desvios
Dagger Selection and Grip
Attack and Defense with Rapier & Dagger
With the assistance of Jeannette Acosta-Martinez and Anthony De Longis, Maestro Rarmon Martinez teaches these skills in short, sequential lessons which include simple drills that illustrate the techniques of La Verdadera Destreza. Because these volumes contain instruction in true combative historical fencing, it is highly advised that you invest in the appropriate protective gear before beginning your training - including fencing mask, chest protector, jacket and gloves.
---
Ramon Martinez has devoted over 28 years to the study and teaching of classical fencing. He studied classical fencing for ten years with the late Maitre d'Armes Frederick Rohdes in New York, who conferred the rank of Fencing Master on Mr. Martinez in 1982. He has also done extensive research in historical fencing, carefully and thoroughly studying treatises of the most prominent masters of the past centuries in an effort to accurately reconstruct the varied styles. These ancient and historical forms are then taught as authentically as possible. Maestro Martinez' goal is to teach, promote, and preserve this rare martial art.

Maestro Martinez is a member of the Council of Advisors of Swordplay Symposium International and is the current president of the Association for Historical Fencing. He is one of the founders of the International Masters at Arms Federation and is associated with the Federazione Italiana Scherma Antica e Storica and British Federation for Historical Swordplay. He is also a research consultant for the American Society for Chivalric Research.

Jeannette Acosta-Martinez is a professional restorer of antique furniture who specializes in works of the 17th and 18th centuries. Maestro Acosta-Martinez has spent a total of 18 years studying traditional fencing, both classical and historical, under the tutelage of Maitre d'Armes Frederick Rohdes and Maestro Ramon Martinez. In 1995, she became an instructor at Martinez Academy of Arms.

In preparation for her Provost's and Master's certification, Maestro Acosta-Martinez devoted time to learning the art of teaching, as well as extensively researching the fencing treatises of the classical and historical periods. In May of 2000, she received her Master's certification from the International Masters at Arms Federation and a second certification from the Martinez Academy of Arms the following November, becoming the only other Master certified to teach the Rohdes system of classical fencing and the Martinez system of Spanish rapier fence. Maestro Acosta-Martinez is also the Vice President of the Association for Historical Fencing and a founding member of the International Masters at Arms Federation.
---

The crew (l to r) front row: David Calhoun, Ed Douglas, Patt Paczynski; back row: Anthony De Longis, Ramon Martinez, Jeannette Acosta-Martinez, Mark Petrigac

Maestro: Ramon Martinez
Maestro: Jeannette Acosta-Martinez
Sword Assistant: Anthony De Longis
Director: Ed Douglas
Camera: Mark Petrigac
Music: Christopher Lowery
Art Director: Mary Gallien
Production Assistant: Patt Paczynski
Camera Assistant: David Calhoun
---
La Verdadera Destreza Volumes 1 and 2 are available in DVD and VHS format. They are available for US$34.95/volume. Sets are available for $64.95. Please be sure to say which format you want.

Postage and handling: include $5/video or disk or $7.50 set for shipping and handling for orders to the U.S. (by Priority Mail),Canada and Mexico (by Air Mail), and $10/video or $18/set for overseas orders. Foreign orders are accepted, payment made by U.S. funds money order. Unless PAL format is specifically requested, VHS orders will be shipped in NTSC format.

Send checks, payable to:

Palpable Hit Productions
P.O. Box 2445
Canyon Country, CA 91386-2445
U.S.A.

Allow 2-4 weeks delivery in North America; . For more information, or to inquire about rush delivery, send email to palpablehit@delongis.com

Are you a retailer interested in carrying our videos? For wholesale information, please contact Mary Gallien. We will be happy to send you details.
---
Home | Rapier for the Stage & Screen | La Verdadera Destreza
La Scherma Italiana | Sword Spectacular Weekend Video | Other Items | Anthony De Longis' Website
Copyright 1999-2001 Palpable Hit Productions. All contents provided by Anthony De Longis unless otherwise stated. Contents not owned by Anthony De Longis or Palpable Hit Productions are used with the permission of the copyright owner. Unauthorized use of these contents without the written permission of Anthony De Longis, his legal representative, or original copyright owner is prohibited.
This page designed and maintained by Scorpio Rising. Send comments to Mary.
This page last updated September 15, 2004