PHP Home Page | Rapier for Stage & Screen | Broadsword for Stage & Screen | Sword Spectacular Video | Other Items
---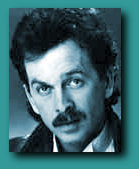 Ed Douglas enjoys life in Los Angeles as a teacher, fight director and stage director. He is currently on the faculties of The Glendale College Theatre Arts Department, The American InterContinental University, and The California State Summer School for the Arts. He has served on the faculties of the California Institute of the Arts, Los Angeles City College Theatre Academy and The Lee Strasberg Theatre Institute.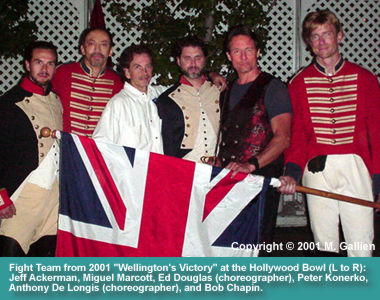 Mr. Douglas feels his most important work is his long association as a volunteer at Mount Washington Elementary School where he conducts theatre game workshops and has directed student productions of ONCE UPON A LILY PAD, THE WIZARD OF OZ, a musical version of Mark Twain's classic THE ADVENTURES OF TOM SAWYER, and IF YOU WILL: AN EVENING OF SHAKESPEARE.

Mr. Douglashas had a long association with Anthony De Longis. They have been a mainstay as fight directors with the L.A. Opera since 1986, choreographing the sword action in productions including TRISTAN UND ISOLDE, DON GIOVANNI, CARMEN, and IL TROVATORE, and working with such stars as Placido Domingo, Thomas Allen, Vladimir Chernov and Richard Bernstein. Ed and Anthony worked as the choreographers for the CONAN SWORD SPECTACULAR in the Universal Studios Tour. Ed also choreographed the swordplay in Opera Pacific's productions of OTELLO and DON GIOVANNI.

Most recently, Mr. Douglas was the fight director for MAD BOY CHRONICLES at the 24th Street Theatre in Los Angeles.

His other stage credits include the fight choreography for HAMLET at USC, THE ILLUSION at UCLA, THE DUCHESS OF MALFI at The Theatre of Note, TERRA NOVA at the Santa Clarita Repertory Theatre,AN AMERICAN ROMANCE for The Road Theatre Company and WELLINGTON'S VICTORY (with Anthony) with The Los Angeles Philharmonic at the Hollywood Bowl.

Mr. Douglas film credits include WILD BILL with Warner Brothers, OBLIVION with Full Moon Entertainment and WILD MAGIC with Swashbuckler Films.
---
Home | Rapier for Stage & Screen | Broadsword for Stage & Screen | Sword Spectacular Weekend Video | Other Items

Copyright 1999-2001 Palpable Hit Productions. All contents provided by Anthony De Longis unless otherwise stated. Contents not owned by Anthony De Longis or Palpable Hit Productions are used with the permission of the copyright owner. Unauthorized use of these contents without the written permission of Anthony De Longis, his legal representative, or original copyright owner is prohibited.

This page designed and maintained by Scorpio Rising. Send comments to mary@delongis.com.

This page last updated September 17, 2001