---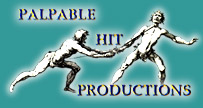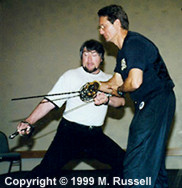 June 18-20, 1999, an incredible event was held in Los Angeles - the Sword Spectacular Weekend. Drawing together Sword Masters from stage and screen, Martial Artists, Actors, and Sword Craftsmen, this three-day convention of the sword truly celebrated "le sentiment du fer."

The Sword Spectacular Weekend Convention Video, produced by Anthony De Longis and featuring all the Guests of Honor and exciting events from the Sword Spectacular Weekend Convention, is now available!

This video contains over two hours of highlights from the action-packed weekend. The Weekend Guests of Honor include Anthony De Longis, F. Braun McAsh, Nick Evangelista, Ed Douglas, Payson Burt, Bob Goodwin, Mark Ryan, Bob Chapin, T.J. Rotolo, Roberta Brown, Tim Weske, Lavonne Martin, Tony Swatton, T.J. Storm, Stan Kirsch, Jason Carter, Dale Midkiff and Rick Worthy.

Contents of the video include excerpts from:
*Opening ceremony demonstrations by Guests of Honor, including a rapier and dagger fight featuring Anthony De Longis and Bob Chapin, Kali weapons fighting featuring Anthony and Lavonne Martin, staff fight featuring Bob Chapin and Gillian Horvath, sword fight featuring Bob Goodwin and Earl Robinson, and the popular "Wench-Taming 101" featuring Bob Chapin and Roberta Brown.

*The Mysterious Circle Seminar featuring Anthony and Sword Master F. Braun McAsh on the combative and choreographic usage of this unique and versatile fighting style.

*The Evolution of Rapier Combat featuring McAsh and including techniques employed by Morozzo, Grassi, Fabris, Saviolo, Capo Ferro, Giganti, Viggiani and Silver.

*East Meets West featuring Bob Goodwin's demonstrations including katana vs. katana/sai and rapier & dagger duel circa 1650 in the style of Capo Ferro and Vigianni.

*Writing The Swordfights featuring Gillian Horvath (Highlander: The Series), Ted Elliott (Mask of Zorro), Bryce Zabel (The Crow: Stairway to Heaven) and Laura Brennan (The Lost World), writers and producers of action movies and TV shows about the making of their projects, the communication between writers, choreographers, and cast, and how fight considerations affect storytelling decisions.

*Creating a Dangerous Work of Art featuring swordmaker Tony Swatton on the art of transforming an idea into a memorable film prop or weapon. To illustrate this discussion, Swatton displays a number of his creations used in film and televsion.

*Combat classes including beginning and intermediate theatrical swordplay, rapier and dagger, Cappo Ferro, smallsword, and Filipino martial arts including espada y daga.

*The Process, the popular and dramatic seminar outlining the process for choreographing for stage and film. Anthony De Longis and Bob Chapin conduct the creation of a fight with the assistance of the Guest of Honor Writers (creating the story behind the fight) and the Guest of Honor Sword Masters (contributing the moves). Selecting the weapon and specific fighting style, developing unique choices and rhythms, and staging for the camera are incorporated as elements articulating the characters and driving the story to its conclusion.
This VHS videocassette is available in either NTSC or PAL format for $25 (California residents, add 8.25% sales tax). Include $5/video for shipping and handling for orders to the U.S. (by Priority Mail),Canada and Mexico (by Air Mail), and $10/video for overseas orders. Unless PAL is s specified, NTSC format will be shipped.
---
Send checks, payable to:

Palpable Hit Productions
P.O. Box 2445
Canyon Country, CA 91386-2445
U.S.A.

Allow 2-4 weeks delivery in North America . For more information, or to inquire about rush delivery, send email to PalpableHit@delongis.com
---
Home | Rapier for the Stage & Screen | Broadsword for the Stage & Screen
La Verdadera Destreza | La Scherma Italiana | Other Items

Copyright 1999-2004 Palpable Hit Productions. All contents provided by Anthony De Longis unless otherwise stated. Contents not owned by Anthony De Longis or Palpable Hit Productions are used with the permission of the copyright owner. Unauthorized use of these contents without the written permission of Anthony De Longis, his legal representative, or original copyright owner is prohibited.

This page designed and maintained by Scorpio Rising. Send comments to mary@delongis.com.

This page last updated September 15, 2004