---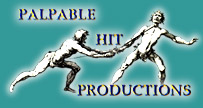 PALPABLE HIT PRODUCTIONS is pleased to announce that its second instructional video on Stage Combat. Broadsword for the Stage and Screen: The De Longis Method, is now available in both DVD and VHS formats!
"After having read and viewed dozens of books and tapes in my long career, I can honestly say for the first time that I was kept interested by the personality, charm and presentation of the material. Anthony's breakdown of the technical aspects of the techniques applied to the broadsword was clearly and precisely presented both in explanation and demonstration.... I highly recommend the purchase of this video as a valuable reference video and contribution to one's fencing library" -- Bob Anderson - Swordmaster and Actor Action Coordinator, The Princess Bride, The Mask of Zorro, First Knight, Lord of the Rings
Building on the basic techniques detailed in Rapier for the Stage and Screen, this video is geared to the intermediate to advanced swordsman and offers the tools to get you performing safely, comfortably and effectively with the Broadsword.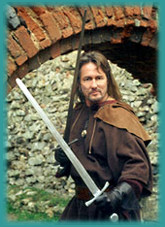 Content of the video includes instruction and drills covering:
selection of the practice weapon
standard & reverse guards
single- and double-handed cuts & parries
triangular footwork
distance and timing
diagonal cuts & parries
ceding or yielding parries
deflections and disarms
binds, envelopments and avoids
wounds and kills
visual and audible cueing
reactions
cool moves
choreographed swordfight performances using broad-bladed weapons
"Anthony De Longis has produced another superior instructional video. Based on progressive learning, and underscored by a desire for safety at all times, Broadsword for Stage and Screen: The De Longis Method, leads the theatrical fencer or historical recreator into a knowledge-based use of the broadsword. As always, the De Longis method is clear, clean, and easily grasped, blending creativity and proficiency simultaneously. This video is another must for anyone interested in historically-flavored sword fighting. As the author of The Art and Science of Fencing, The Inner Game of Fencing, and The Encyclopedia of the Sword, and the editor of Fencers Quarterly Magazine, I recommend it highly." -- Nick Evangelista, author of The Encyclopedia of the Sword and The Art and Science of Fencing
How complete is the material presented in this video? Included are two pieces of choreographed swordplay: a two-on-one fight with single weapons, and a one-on-one fight with two weapons. All the elements of this fight are included in the video. See how far you can go with the right skills!
"Anthony De Longis' video on the Broadsword for the Stage & Screen is superbly taught by Mr. De Longis, with all the necessary basics, safety measures and subtleties that make up exciting action sword play for the stage and screen." -- Guro Dan Inosanto - internationally renowned martial arts master instructor, member of the Black Belt Hall of Fame and author of The Filipino Arts, A Guide to Martial Arts Training with Equipment, Jeet Kune Do: The Art and Philosophy of Bruce Lee and Absorb What is Useful: a Jeet Kune Do Guidebook.
Broadsword for the Stage and Screen, with a running time of 108 minutes, is available for US $41.95 in DVD format or $34.95 in NTSC or PAL format. Include $5/video or disk for shipping and handling for orders to the U.S. (by Priority Mail),Canada and Mexico (by Air Mail), and $10/video for overseas orders. Foreign orders are accepted, payment made by U.S. funds money order. Unless PAL format is specifically requested, orders will be shipped in NTSC format. Allow 2-5 weeks delivery in North America; 4-8 weeks overseas.
---
Send checks, payable to:

Palpable Hit Productions
P.O. Box 2445
Canyon Country, CA 91386-2445
U.S.A.

Allow 2-4 weeks delivery in North America; . For more information, or to inquire about rush delivery, send email to Palpable Hit Productions

Are you a retailer interested in carrying our videos? For wholesale information, please contact Mary Gallien. We will be happy to send you details.
---
Home | Rapier for the Stage & Screen | La Verdadera Destreza
La Scherma Italiana | Sword Spectacular Weekend Video | Other Items
Copyright 1999-2004 Palpable Hit Productions. All contents provided by Anthony De Longis unless otherwise stated. Contents not owned by Anthony De Longis or Palpable Hit Productions are used with the permission of the copyright owner. Unauthorized use of these contents without the written permission of Anthony De Longis, his legal representative, or original copyright owner is prohibited.
This page designed and maintained by Scorpio Rising. Send comments to Mary.
This page last updated September 15, 2004