In addition, he has performed on and choreographed for the stage, television and film. He appeared in Highlander: the Series twice - one of the episodes included in the 13 best of the 6-season series. The fights between Anthony and series star Adrian Paul (choreographed by Anthony and series' sword master F. Braun McAsh) are considered by many fans to be the best of the series.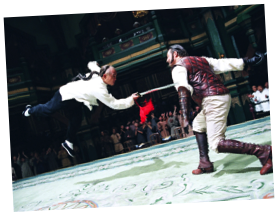 He was the fight choreographer for the Los Angeles Music Center Opera since its inception from 1990-2003. He was Sword Master for the first 6 episodes of the syndicated series
Queen of Swords
and was the Sword Master for the film
Secondhand Lions
.
Sword training at Rancho Indalo includes the combative art of historical rapier swordplay, modern sport fencing (foil, saber and epee), and the theatrical application of various bladed weapons (broadsword, rapier, smallsword, saber, knives and axes). You have the option of including sword training with other activities (usually 90 minutes of training/day) or focus on intensive training (4-6 hours of training/day).

Anthony has trained individuals interested in re-enactments ranging from the Renaissance to the Civil War. If you have a specific period and/or weapon, please let us know and we will work to prepare you for the activities that you wish to pursue. Included in training is building a strong safety protocol that will allow you to keep yourself safe- no matter what training your partner or adversary had undergone.

For teams interested in training together or for working on performance choreography, we offer 4-5 day training seminars focusing on the specific needs of the performers. This may include use of a dagger or other second weapon, or may include use of a cape or other piece of wardrobe. We also offer Anthony's teaching videos at a discount to individuals and teams trained on site.
看